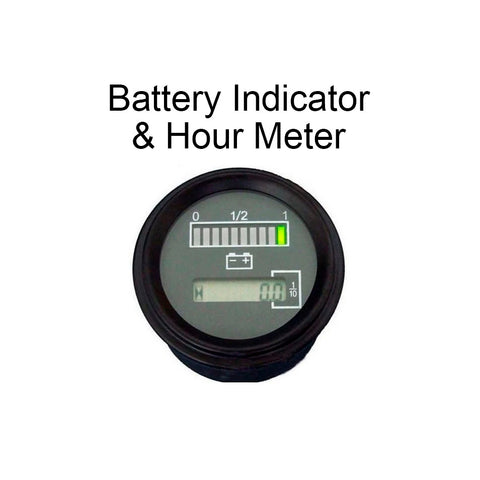 12v 24v 36v Marine Engine Hour Meter w/ Battery Indicator Charge Meter 2"
12V, 24V, 36V Battery Indicator & Hour Meter
Never let your electric equipment run out of power again. This battery indicator is designed to monitor the voltage charge on your battery powered equipment. The meter will also log your hours of operation. The hour meter function is useful for logging maintenance intervals. 
100% Brand New & High Quality
Colored LED Indicator Status
Color: Black
Battery Indicator Specifications:
10 LED Bar Display
Operating Voltage: 12V, 24V, 36V
Battery Indicator Levels Explained:
The battery indicator has 10 colored LED's that will display the batteries voltage charge. Only 1 LED will be illuminated at a time to converse the power draw. When your batteries are fully charged, the far right LED will illuminate green. As the batteries voltage drops from use, the LEDS in the 4 thru 9 position will illuminate. All of the 9th-4th LED's are Green as shown the the flashing graphic above. Once the batteries voltage drops significantly the battery indicator switches to a Yellow LED cautioning there is approximately 30%  of the batteries voltage left,  This should be your warning for low voltage. When the batteries voltage is discharged to around 20% remaining, the 2nd LED from the left will illuminate as a flashing Yellow LED. Finally, when the battery voltage drops to 10% or less, the 1st and 2nd LED will start to flash Red and Yellow LED.

Hour Meter:
The quartz hour meter is specially designed for standard industrial timing and supplying data for the reference of maintenance duration for precision equipment. Featuring waterproof and steady performance, the hour meter gauge is widely used for tracking engine hours. This hour meter will allow you to keep track of engine hours so you can monitor service intervals. You can mount this hour meter right on your dash or in an inconspicuous space. Durable polycarbonate design with a black bezel.
Specifications:
Reading: 99,999.9 hours
Accuracy: 0.01 Quartz
Voltage Supply: 8 to 80 Volts DC
Power Consumption: 0.3 Watts
Hole Size: 2 Inch
Common Applications: Boats, automobiles, motorcycles, ATV, UTV, Go Carts, Jet Ski, Snowmobile, Lawn Tractors, Wood Chippers, Shredders, Pumps, Generators, and many more.
Manufacturer: Automotive Authority
---
We Also Recommend