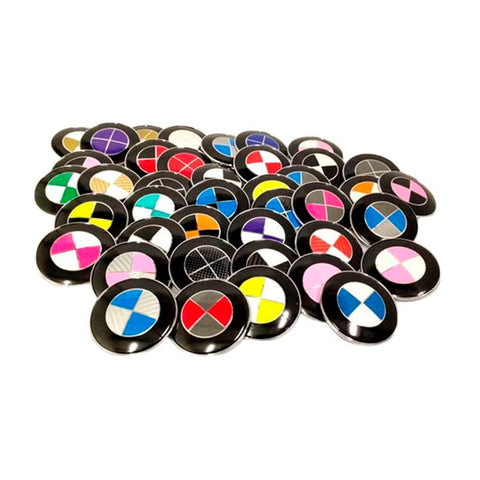 BMW Emblem Cover Badge Roundel Decal
What Is In The Package:
Each order will include enough emblem overlays use on your: Hood, Trunk, Steering Wheel, and Wheel Caps. Please note that 1 set will cover either the blue or white quadrants, if you want to cover both the blue and white sections please purchase 2 sets.
Our roundels covers are computer cut to precisely fit over (and only) the blue area of your roundels. If you want to cover the white portion of your roundel you will need to purchase another set of covers. I repeat, if you want to cover all 4 quadrants of the emblem you will need to purchase 2 sets of emblem covers.
Installation:
This is an extremely easy process with no tools required. Please view our video below for a demonstration of the installation process.
Installation Video:
Special Consideration:
This emblem cover set will only work on factory OEM emblems. Aftermarket emblems may be slightly different sizes. Common problems occur on aftermarket wheels with aftermarket emblem caps.
This Product Fits:
E24 - BMW 6 Series - 1977-89, E28 - BMW 5 Series - 1982-88, E30 - BMW 3 Series and M3 - 1984-91, E31 - BMW 8 Series - 1990-98, E34 - BMW 5 Series and M5 - 1989-96, E36 - BMW 3 Series and M3 - 1992-98, E38 - BMW 7 Series - 1995-02, E39 - BMW 5 Series and M5 - 1997-03, E46 - BMW 3 Series Coupe, Sedan, Convertible and M3 - 1999-2006, E60/E61 - BMW 5 Series and M5 - 2004-2009, E63/E64 - BMW 6 Series and M6 - 2004-2010, E65/E66/E67 - BMW 7 Series - 2002-2008, E70 - BMW X5 and X5M SAV - 2007-2013, E87/E81 - BMW 1 Series Hatchback Sedan - 2004-2010, E90/E91 - BMW 3 Series Sedan and M3 - 2006-2012, E92/E93 - BMW 3 Series Coupe and M3 - 2007-2013, E83 - BMW X3 SAV - 2003-2010, E53 - BMW X5 SAV - 2000-2006, E37 - BMW Z3 Roadster and MZ3 - 1997-02, E85 - BMW Z4 and Z4M Roadster and Coupe - 2003-2008, E52 - BMW Z8 Roadster - 2000-2004, E71 - BMW X6 and X6M SAV - 2008-2014, E82/E88 - BMW 1 Series Coupe & 1M - 2007-2012, , E89 - BMW Z4 Roadster / Coupe - 2009 and up, F01/F02/F03/F04 - BMW 7 Series - Sedan 2009 and up, F06 - BMW 6 Series GranCoupe GC - 2013 and up, E84 - BMW X1 - SAV 2010 and up, F10 - BMW 5 Series Sedan and M5- 2010 and up, F30 - BMW 3 Series Sedan - 2012 and up, F25 - BMW X3 - SAV 2011 and up, F20/F21 - BMW 1 Series - Sedan and up Hatchback 2012 and up, F07 - BMW 5 Series GT - 2010 and up, F32 - BMW 4 Series Coupe - 2014 and up, 
THESE ROUNDELS COVERS ARE UNIVERSAL AND WILL FIT A MAJORITY OF BMW MODELS JUST CHECK OUR COMPATIBILITY AND FEEL FREE TO ASK US IF YOUR VEHICLE IS NOT LISTED
---
We Also Recommend