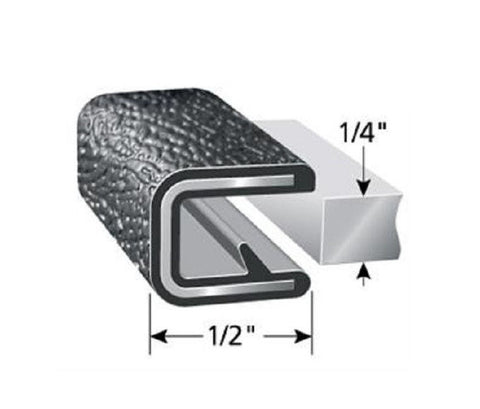 1/4" Black Edge Trim Lok Seal Lock
1/4" x 1/2" Black Trim
Please measure your application prior to purchasing to ensure you will have enough trim to complete the job. All measurements are rough and will be within +/- 6" in length.
Purchase Includes:
1/4" edge trim with 1/2" Leg Length. The trim can be used around doors, lids, and about any other exposed edge. The trim prevent leaks, gaps, and vibration. The trim is designed with a flexible PVC construction that slides on easily to cap any edge. The inside steel metal clips provide a permanent grip on RV doors, truck cabs, golf carts, tractors, motorcycles, ATV fenders, fiberglass, sheet metal and more. 
Quality Is In The Design:
The trim is proudly Made In America. The trim is UV protection to ensure it will hold up against the weather. The trim has an adhesive in the channel to ensure a strong and long lasting hold.
Don't Be Fooled:
There are many other trims out there that a cheaper in quality and will not even last 2 months before fading and cracking. Many of the cheaper trims originate from China and will use sub-standard materials to cut down on the cost.
As we said earlier all of our trims are proudly Made In America and support American Workers.
---
We Also Recommend